Our final semi-finalist reading of the season is here – we promise we're not going to cry.  What a joy it's been to share such an incredible bill of plays thus far!  And our Prescott plays are no exception.  If you're in the Prescott area on June 3rd, we hope you'll join us for some tingles and laughs – and three local playwrights! – at Prescott Center for the Arts' Stage Too @ 7pm!
The reading is being produced by 2016 ONSTAGE alum and 2017 ONSTAGE semi-finalist, Amber Bosworth.  Amber has now officially participated in just about every aspect of the ONSTAGE fest (Playwright, Actor, Director, and Partner Producer) so she's all kinds of awesome in our book!  Thank you, Amber, and thanks to the PCA who has shared their stage with us previously for readings and quite a few of our full productions.  Prescott is Tiffany's hometown, and it's a wonderful creative home to many talented artists.
And mark your calendars for July 6-8, since that's when this year's winning plays will be presented at the First Congregational Church theatre in Prescott, AZ!  More details on that (and our list of winning plays) to come…
Meanwhile, read all about our Prescott semi-finalists below!
What'll It Be?, by Amber Bosworth    
Amber Bosworth has been committed to theater since she was a kid. She served five years in the US Navy as an Air Traffic Controller to help pay for college. She now works for Lockheed Martin Flight Service and spends most of her free time writing and acting on any stage that will have her. She has been involved with Seatbelts Required, Harvey, Dead Mans Cell Phone, and Educating Rita. Her first love has always been writing. After twenty years of following the sensible path, Amber has finally started to follow her dream as a writer. She has just finished her Masters in Creative Writing from Full Sail University and plans to spend more time writing.
Linda, by Diana Burbano  
Diana Burbano, a Colombian immigrant, is an Equity actor, playwright and teaching artist at South Coast Repertory and Breath of Fire Latina Theatre Ensemble. Full length plays: Fabulous Monsters about women in punk rock, Silueta (With Tom and Chris Shelton) about feminist artist Ana Mendieta. Policarpa which will have a Rough Draft Residency at the Drama League in May. Picture me Rollin' was featured at the Hollywood InkFest, 2017, Other plays: Enemy|Flint, Caliban's Island, (published by YouthPLAYS). Libertadoras, Vamping and Linda  were written for the 365 Women a Year project and have been performed around the world. Rounds Per Second is featured in Smith and Kraus's 5-minute play anthology. dianaburbano.com
Full Circle, by Mikki Russ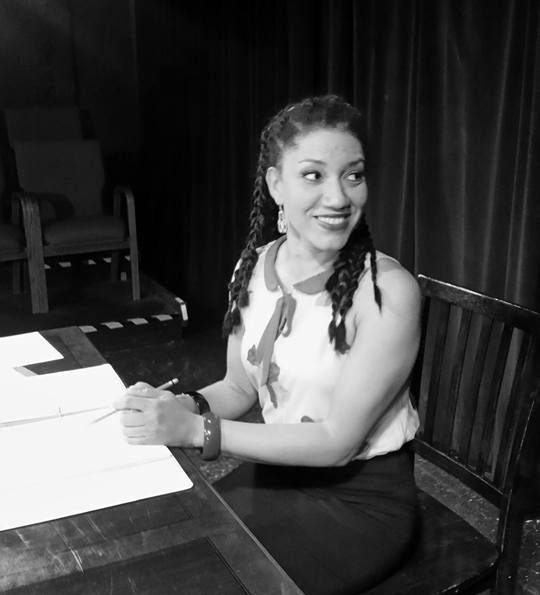 Mikki Russ resides in Northern Arizona. She has been active with Little Black Dress Ink as an actor in the past, and is thrilled to be a semi-finalist as a playwright for the Sixth Annual Women's Playwright Festival. Mikki is grateful that Little Black Dress Ink is such a vibrant platform for female voices to resonate from and looks forward to participating in future endeavors
Spark, by Barbara Blumenthal-Ehrlich 
Full lengths produced at Northern Light (Edmonton, Alberta, Canada), Overtime (San Antonio), Forward Flux (Seattle) Trustus (Columbia, S.C.), Trinity Rep (Providence), the New York International Fringe Festival, off-Broadway Summer Play Festival, and more. A contributing writer to the upcoming 2017 national tour, THE GRIEF DIALOGUES. Plays have been developed in NYC at Playwrights Horizons, Second Stage, EST, ARACAworks, Rattlestick, and regionally at Actors Theatre of Louisville, Geva, Victory Gardens, Elephant Theatre, Hangar, among others. Winner of the 2016 Beverly Hills Theatre Guild Julie Harris Award, Capital Stage Playwrights' Revolution, and a runner up in contests that include the Sundance Playwriting Lab, O'Neill Playwrights Conference, Bay Area Playwrights Festival, the Heideman Award and Princess Grace Fellowship. Her play STILL LIFE was named to the Kilroy List (honorable mention) and nominated for the Susan Smith Blackburn Award. Published by Smith & Kraus, Applause Books, and Indie Theatre Now. barbarablumenthalehrlich.com @1BarbaraBE
Evolution Fast Track, by Micki Shelton
Micki Shelton grew up in Scottsdale, Arizona. After studying playwriting at South Coast Repertory's Professional Conservatory, her first full-length play, Circles, was included in Ashland, Oregon's 2nd Annual New Plays Festival. She has written 5 full-length plays and about 20 short plays.
A resident playwright at Theatre Artists Studio in Scottsdale, AZ, her play Medea's Ghost premiered there in 2010. In 2012, Fred and Mary: An Unconventional Romance, a quasi-historical play, received its world premiere at Prescott's Elks Opera House as part of Arizona's Centennial Celebration.
Other credits include productions by City Lights Theatre Company (San Jose, CA), Arizona Classical Theatre (Prescott, AZ), South Coast Repertory's Summer Series (Santa Ana, CA), Phoenix AZ's Fringe Festival, several short plays at Theatre Artists Studio (Scottsdale, AZ), The@trics, and Prescott's one-day play festivals. Her newest play, Discovery is now seeking its first production.
Just Deal, by Robin Brooks
Robin Brooks is an award-winning playwright and screenwriter. Her work has placed in the Kennedy Center's American College Theater Competition, the Austin Film Festival, and the PAGE International Screenwriting Awards. She is a member of the Dramatists Guild, and she is a 2017 finalist in the Henley Rose Playwright Competition for Women. She is currently working on a modern adaptation of an Anton Chekhov parlor play. Find her at screenplaywriteher.weebly.com.
Springful, by Bex Frankeberger    
Bex Frankeberger is a Southern California native now living in Brooklyn. She is graduating with a degree in Dramatic Writing from NYU this May and hopes to pursue playwriting while somehow paying rent. She is obsessed with Elena Ferrante and Dostoevksy, and also the moon. Some of her favorite playwrights include Sarah Kane, Maria Irene Fornes, Sarah Ruhl, Branden Jacobs-Jenkins, and Will Eno. Please talk to her about your Zodiac sign, and if you are in any way connected to the other love of her life (her first being the moon), actor Paul Dano.
Save
Save