Learn more about our fabulous playwrights, and then join us at the Prescott Center for the Arts in Prescott, AZ this Thurs, Sat and Sunday (Aug 6, 8, 9) for the OUTSIDE THE LINES Festival!  Tickets Available HERE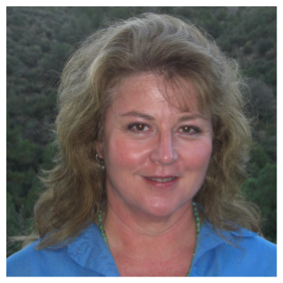 ONSTAGE Playwright Delia Whitehead lives in my hometown of Prescott, AZ, which makes me very happy!  The ONSTAGE Fest began there, with the first year's playwrights consisting of fabulous female playwrights I knew in LA and Prescott – it was an experiment in support, and I wasn't sure if it would take flight (thank goodness it has!) and so I can't help but feel a little thrill at knowing that another Prescott playwright is playing a part in making this year's festival the best it can be 🙂  Delia's play, GREEN DOG, creatively tells  the story of a woman who tries a little too hard to do everything right and in the process, loses out of much of her own happiness.  I can't wait to see it this weekend!  GREEN DOG is directed by Cason Murphy and stars Julie Chavez Harrington and Raina Yoss.
LBDI:  Why did you decide to submit your work to this year's ONSTAGE Project?
DELIA:  I love what this festival offers for writers, actors, directors, and the audience.  It's an all-around cool thing.
LBDI:  Describe your writing space…
DELIA:  Mostly inside my head (cluttered).  I spend a lot of time there before I get to the computer.  My office is on the north side of my home, with yellow walls and a beautiful view of the northern Arizona forest.  I confess to a chronically messy desk.
LBDI:  If you could be any literary character, who would you be?
DELIA:  I've thought about this a lot, for days in fact.  No one character jumped out as someone I wanted to be, so I suppose it's good news that, in the end, I don't want to be anybody but me. The characters I auditioned ranged from Howard Roark, Sherlock Holmes, Gandolf, Merlin, and the Chink, to Karen Blixen (who is not really fictional), Nancy Drew, and Charlotte, from Charlotte's Web, because she was one of the wisest, most compassionate characters I remember.  I also wanted to be Ruby, or at least sail like she does, from Jim Lynch's upcoming novel, Before the Wind, but that's not out yet, so in order to meet Ruby, you'll have to look for it in April, 2016.
LBDI:  What was your first play titled/about?
DELIA:  To be honest, I don't remember my first play.  It was probably silly and self-indulgent, with sexual undertones.  The first play I wrote that I actually remember was called The Light Way Way, about a woman trying to convince a couple (the wife was gung-ho, the husband was freaked out) to join a network marketing company that sold enlightenment – by using their spray product, one became Enlightened and Blissfully One With It All.
LBDI:  Which theatricians do you admire and what about them inspires you?
DELIA:  I admire anyone with the courage to work hard to make something good, then keep working to make it better, and then get up in front of people and be vulnerable and willing to look silly in the interest of stirring the emotional pot of a society often out of touch with their feelings.  I particularly admire the work that goes on in Ashland, Oregon at the Oregon Shakespeare Festival, especially in the days when Libby Appel was artistic director.
LBDI:  Why do you write for theatre?  (as opposed to other written mediums…)
DELIA:  It's challenging to write well for theater, but I like the 3-D nature of it; I like watching my work pop up into live characters.  I also enjoy the collaborative, team-work nature of theater.
LBDI:  What message would you put in a fortune cookie?
DELIA:  Well, the fortune cookies I've seen lately are hardly fortunes, they're merely lame sayings.
Tick-tock.
Is that too esoteric?  Do you get that I mean time is short so be here now, do it now, love it NOW?  I'm not sure it's clear.  But that's what I mean.  Tick-tock.
LBDI:  Morning, Noon, or Night?
DELIA:  It depends on the phase of my moon.  Sometimes morning, sometimes night.  Never noon.
More about Delia:
Delia Whitehead has been an actor, director, and writer for over twenty years. She's had the great good fortune to play many plum roles in many venues in Prescott, Arizona, and at Canyon Moon Theater in Sedona, Arizona.  Her plays have been produced in Prescott, and include Undercurrents, The Key, and an adaptation of O'Henry's Ransom of Red Chief.   She took some time away from the stage and her pen to give full attention to her private practice doing Brain Integration Technique. Now she has finally come to her senses and realized that she's not fully human unless she's creating.