Holy cow!  Time is FLYING BY!  And our Ithaca and Sedona Producers are gearing up for our May 4th readings.
So let's get to know these AMAZING ladies!
First, I've got to talk a little about the AWESOME Darcy Rose.  I met Darcy at UCLA, where we were both undergraduate transfer students in the school of Theatre, Film, and Television.  I can't speak to Darcy's first impressions of me, but she immediately struck me as a focused and hard working talent, and I was right.  In the years since graduation, I've been thrilled to see her beautiful face on my television screen, kicking ass and taking names.  And now she has her own acting studio in Ithaca, NY, where she works with super talented kiddos – empowering them to embrace their artistic sides through on-camera workshops and super fun film camps.  I am seriously impressed with this woman!
So when she signed on to produce one of our readings,  I was over the moon!  The reading will take place at 7:00 p.m. on May 4th at Darcy's studio – Acting Out NY.  If you're in the Ithaca area, you don't want to miss what will be an awesome evening of new work!
And let's take a moment to celebrate the fantastic woman director working with Darcy to bring these plays to life!
Director, Cynthia Henderson is an associate professor in Ithaca College's Department of Theatre Arts. A professional actor since 1985 in the U.S., Europe and Africa Cynthia has performed on stage as well as in film and television. She is the founder of Performing Arts for Social Change which is a strategic initiative of the Center for Transformative Action at Cornell University. Her work in the area of social justice has earned her the CSPA of New York State's award for "Outstanding Contribution to Social Justice." She was also cited at the 2008 NYS Women's Expo as one the "20 Outstanding Women You Should Know" in Central NY. Her directing credits for Ithaca College include: Plumfield Iraq, The Exonerated, Burn This, The Colored Museum, Triad by EJ Gold, and other explorations. She has also directed for the professional arm of the Roy Park School of Communications, Park Productions. Cynthia is a proud member of Actors' Equity and a Fulbright Scholar.
And now, without further ado, here are our Ithaca Semi-Finalist Playwrights!
SWIMMING AGAIN, by Janice Maffei
Janice Maffei is a published playwright and poet whose work has appeared in The Southampton Review and The Paterson Literary Review. Her plays have appeared at The Culture Project, Barrow Group Theatre and the American Globe in New York City.  Her short play, Re-Upholstered, received a Netty Award.  Active on the subject of gender equity for theatre women, she is part of the core team for WomenStageTheWorld, an advocacy project of The League of Professional Theatre Women.  In addition to her League membership, she's active with the Dramatists Guild, where she facilitated their women's initiative for several years, and with Playwrights Gallery.  Janice is a candidate for the MFA in Playwriting at Stony Brook University.
THE BEGINNER'S GUIDE TO GARDENING, by Denise St. Pierre
Denise St. Pierre's first short play, "Bette Davis Eyes," premiered at the Bishop's University New Plays Festival in 2012, and will be revived at the Toronto International Fringe Festival in 2014. Her second short play, "Sehnsucht," premiered at the New Plays Festival the following year and is currently licensed by YesPlays.com. Denise, a born and bred Canadian, graduated from Bishop's University in 2013, where she studied under noted Canadian-American playwright George Rideout and served a term as the editor of The Mitre, North America's longest-running literary journal. She spent the first third of 2014 interning at a literary agency in New York City and will be attending Simon Fraser University in the fall to pursue her Master's in Publishing.
GET THE MESSAGE, by Coni Koepfinger
Artist and educator, Coni Koepfinger believes that society can transform itself through art.  After teaching writing at Carnegie Mellon and other universities, she is now the Associate Director and Playwright-in-Residence of  Manhattan's The Spiral Studio Theatre. Notable publications  include  Coffeehouse Magik , Garrett, the Blue Giraffe, Candledancing, Unspoken Acts, Choir Practice, Sleeping with Destiny and The Guardian in an international anthology along with a variety of children's plays, books and musical commissions. Koepfinger is on the Board of Directors of ICWP, the Media & Arts Advisory Board of The Lifeboat Foundation, LPTW and The Dramatists Guild. Work on the horizon include the new musical SINGULARITY, with Joe Izen and Joe Kelly and THE EVE OF  BELTANE with Joe Izen premiering at The Dramatists Guild this April and the commission of  TURBULENCE  the highly acclaimed Hudson Valley Center for Contemporary Arts slated for performance in July 2014.
NIGHT BLIND, by Marella Martin
Marella Martin is a playwright and director from Los Angeles. She earned a B.A. in Theatre and Performance Studies from UC Berkeley at the age of eighteen, and is currently pursuing her M.F.A. in Musical Theatre Writing with a fellowship at New York University's Tisch School of the Arts.  Her plays and musicals explore a colorful spectrum of characters and themes, from members of a repressed Catholic brotherhood, to Edgar Allan Poe, to doomed root vegetables.   She has directed for Botanicum Seedlings, Theatre of NOTE, The Vagrancy, California Institute of the Arts Coffeehouse Theatre, and Rogue Machine Theatre.  She currently lives in New York City.
FLY GIRL FLY, by Brigitte Viellieu-Davis
Brigitte Viellieu-Davis is an actor, director, writer and activist who has performed extensively in regional and Off-Broadway theatre, including Westside Arts, Hartford Stage, Ensemble Studio Theatre, City Theatre, Peccadillo, Bricolage, Portland Stage, Capital Rep, The Public Theatre, Urban Stages, The Drama League, 24 Hour Plays, Gorilla Rep, Irondale Ensemble Project, and the Moscow Art Theatre. Television credits include guest star roles on Blue Bloods, Gossip Girl, Law & Order, Law & Order: S.V.U., One Life to Live, All My Children, As the World Turns and Guiding Light. She is the playwright and director of Frida Liberada, about legendary artist Frida Kahlo, and The Whole World's a Talkin' for young audiences. She holds an M.F.A. in Acting from Carnegie Mellon University/Moscow Art Theatre and a B.A. from Purdue University. Brigitte has worked closely with some of the most exciting pioneers in socially relevant and activist theatre, including Eve Ensler (Brigitte played Eve in the Regional premieres of The Good Body) and Anna Deavere Smith & The Institute on the Arts & Civic Dialogue. – See more HERE.
IT SKIPS A GENERATION, by C.J. Ehrlich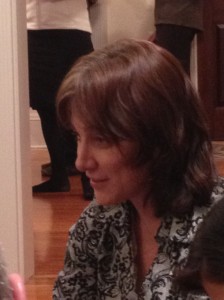 C.J. Ehrlich's award-winning plays have been produced in many states, notably of undress and panic, around the US from Boston to Kealakekua, and in five countries, as far away as Australia. Several of her comedies are published in Smith & Kraus annual Best Ten-Minute Plays anthologies. Her full-length THE CUPCAKE CONSPIRACY: "Terrorism is easy; marriage is complicated" (with Philip J. Kaplan) is a Charles Getchell Award and Mountain Playhouse International Comedy competition finalist. Twice a Heideman Award finalist, CJ is a proud member of the Westchester Collaborative Theatre and the Dramatists Guild. Please visit at www.CJ-Ehrlich.com.
OFEM, by Anne Hamilton
Anne Hamilton is the Founder of Hamilton Dramaturgy, an international consultancy based in New York City's professional scene, and located in Bucks County, PA. She has over twenty years of experience across the country and internationally. The majority of her clients are located in N.Y. and L.A. Her clients have gone on to win the Pulitzer Prize, the MacArthur "Genius" Award, the Tony ® Award, and a Royal Court International Residency. In 2009, STAGE DIRECTIONS magazine named her a "trailblazer" in American dramaturgy.
Hamilton has consulted with Andrei Serban, the Joseph Papp Public Theater, the Harold Prince Musical Theatre Institute, Michael Mayer, Lynn Nottage, Yehuda Ne'eman, Classic Stage Company, B.T. McNicholl, Tina Andrews, NYSCA, Jean Cocteau Repertory Theater, Leslie Lee, Andrew Barrett, The New York City Public Library's Schomberg Center for Research in Black Culture, the University of Iowa Playwrights Workshop, Tom Cavanaugh, and the Great Plains Theatre Festival. www.hamiltonlit.com.
PURPLE EGGS, by Nayna Agrawal
Nayna Agrawal is currently in the MFA program for stage and screen writing at Northwestern University.  Her plays have most recently been featured at the Chicago Dramatist Guild and Teatro Vista.